We now have many new types of wonderful toys available!
Loan Procedure
We loan our toys for three months at a time; this loan can be renewed at any time beforehand and exchanged for another toy, unless no other toys are available.
To request an item, please use this form: Toy Library Application
The child's name, medicare number, and other contact information are required.
Please indicate an alternate choice if the toy you want is not available.
We will arrange the shipment of the toy to any New Brunswick address, but it is your responsibility to return the toy to our office at the end of the loan period.
We can only lend one toy per person at a time.
Toys Available
---
Bump & Go Plane - A42849

Spin and go! Just activate your capability switch and the Bump & Go Airplane will twirl about when it hits an object and go in another direction. Lights flash and the engine spins. A fun way to increase visual attention.
---
Finger Isolation Busy Box - A43385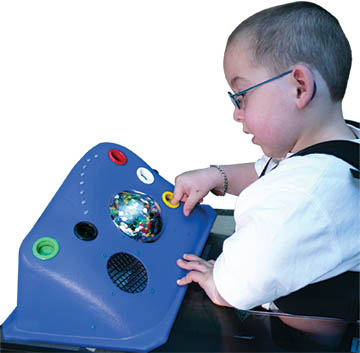 You're never too busy to play with this multi sensory toy that's terrific for auditory, visual and tactile stimulation and color recognition.
---
CD Walkman - A42848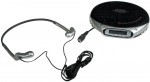 Our portable switch-adapted CD player lets them take music wherever they go. A cinch to use, start and pause your player with a touch of a switch.
---
Fan switch with lights and music - A43384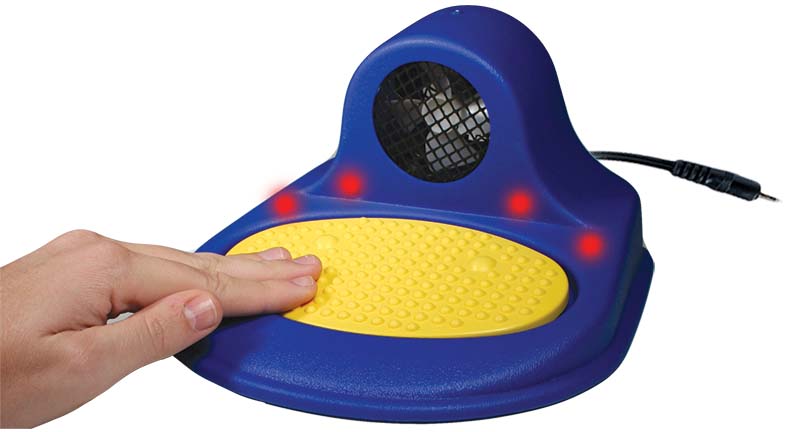 Savor a delightful breeze, hear the sound of music, and see the bright lights when you press this fan's bright yellow, textured switch.
---
Flip over puppy - A43386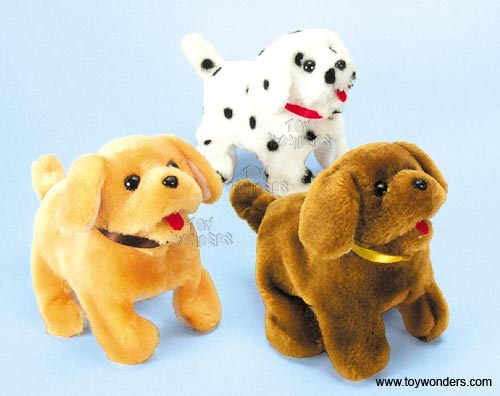 This soft and cuddly puppy walks, sits, flips, and barks! Switch adapted so everyone can join in the fun and can be used with any switch! Requires two "AA" batteries
---
Gearations - A42845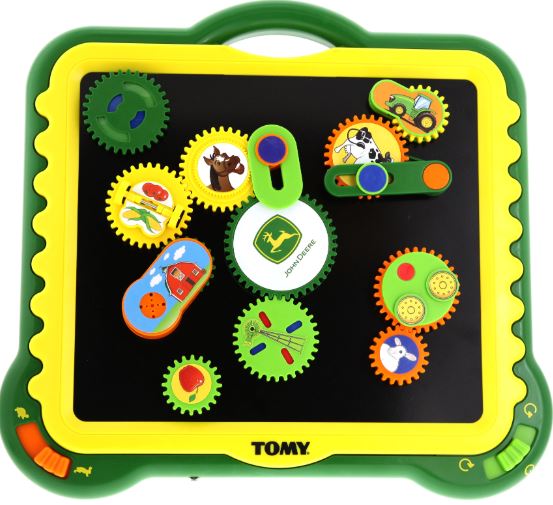 Gear up for fun and innovation with this exciting adapted toy! Eleven interlocking gears spin, flip and mesmerize when you activate your switch.
---
Glitter Pin & Base - A42925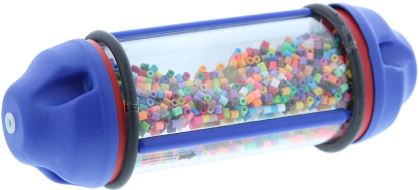 Uniquely designed, this sensory toy has three compartments full of multicolored beads. As they tumble, feel gentle vibration, see colored lights, and hear music!
---
Johnny Coupe Car - A42855

Press the arrows or rim on the adorable happy face controller and watch your car take off and speed about the room. When the car moves forward, right or left, the head lights turn on; when it goes in reverse, the red tail lights turn on.
---
Learning Lantern - A42851

Two switch activations! We've adapted this fun, musical lantern with two switch activations. Press one switch for sing-along songs and tunes, press the other for sounds of the night. Lantern combines seven sing-along songs, fun phrases, nature sounds and activities with learning about numbers, counting, animals, day and night and more. Lantern works with or without a switch, has two volume levels and an on/off switch.
---
Lighted Vibrating Mirror - A42850

Lights, vibration, action! Use our vibrating mirror during circle time activities. This mirror encourages special explorations. When you pick up the mirror the lights turn on while the unit vibrates. This encourages the user to visually attend to himself and increases bi-lateral hand usage. The level of vibration is adjustable.
---
Lil Kitty - A42917

I walk, I meow and wag my tail! Watch this kitten walk, talk and make animal sounds. Cute and cuddly, it will provide you with hours of excitement.
---
Luminidisk - A43387 (Not Available)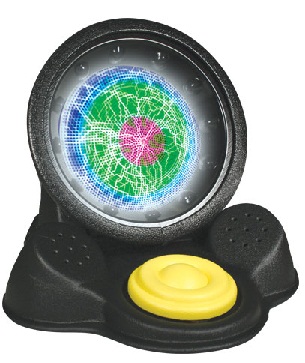 ​What a thrill! Music and lights at the touch of your fingertips!
---
Magical Light Show - A42915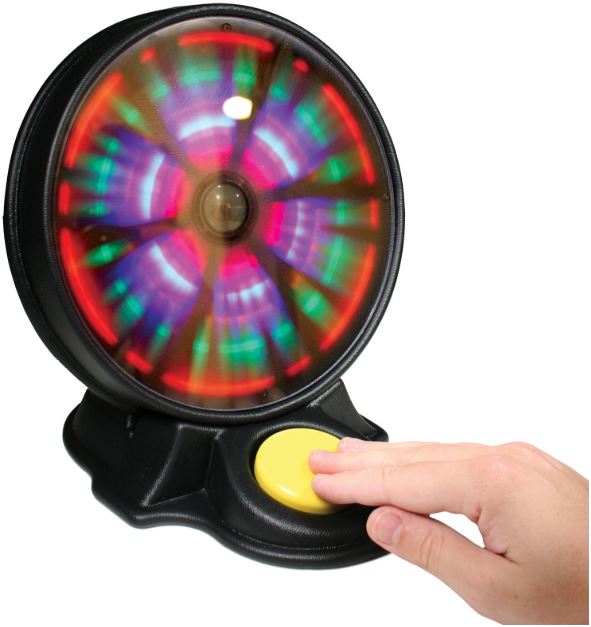 Psychedelic colors! Lively tunes! Good vibrations! Just press the yellow switch, then sit back and enjoy a VIP rock concert.
---
Matching Picture Lotto Bingo - A42916

Perfect for beginning readers! Picture Word Lotto is designed to assist students with word recognition and picture identification. We have created an electronic base unit with 9 red LED lights for the Lotto cards. Push the yellow 2½" button to scan the board for the right match. To select the correct one, release the switch and the light will lock in place. When all 9 lights are lit you have won the game! The blue button is for correcting mistakes and for restarting the game. There are 2 jacks on the side so you can operate the game with your own capability switches. Game comes with four reversible playing cards.
---
Mini Popper - A42918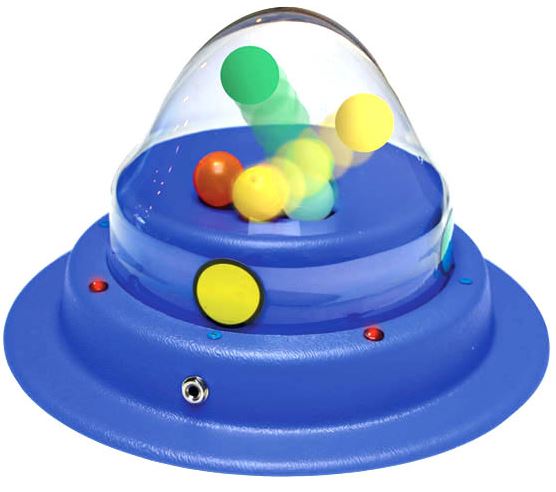 A sensory bonanza! Press the popper's rim or dome (or activate your switch) to start music, vibration, flashing lights, and bouncing balls!
---
Music & Light Caterpillar - A42919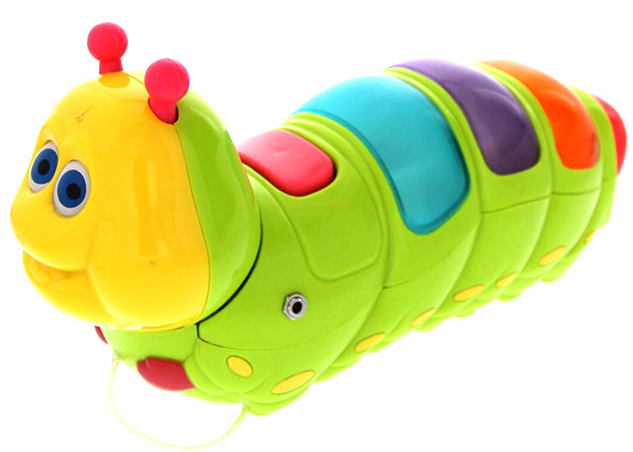 This cute little caterpillar's got talent! Activate your capability switch or push the pink button on its back and it will play 16 different songs while its four colorful lights flash.
---
Music Box - A42846 (Not Available)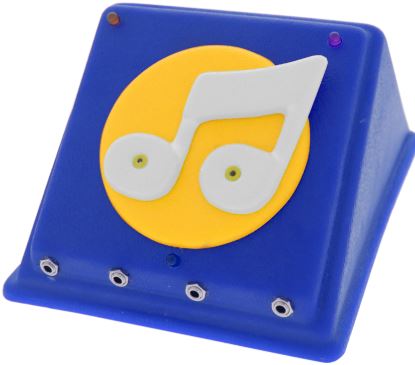 Let the music play! Plug in up to four of your capability switches to hear four different tunes and see flashing lights.
---
Peek A Boo Bear - A42847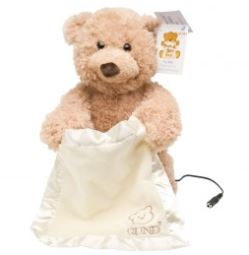 Activate the switch to start an engaging game of peek-a-boo. This toy is ideal for basic cause and effect, and interactive play. Permanently adapted. Requires three AA batteries.
---
Pretty Poodle - A42923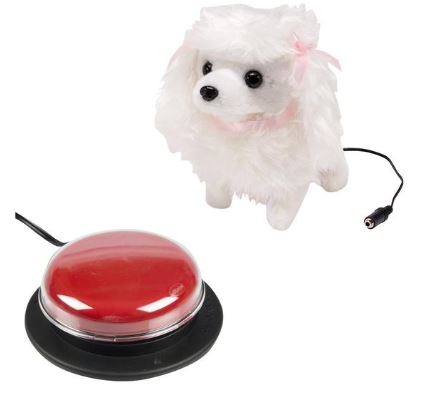 Pretty poodle walks, shakes her tail, barks, and stretches for hours of fun! Assorted styles - white and pink. Specific delivered pet may vary.
---
Pull Ball - A43564 (Not Available)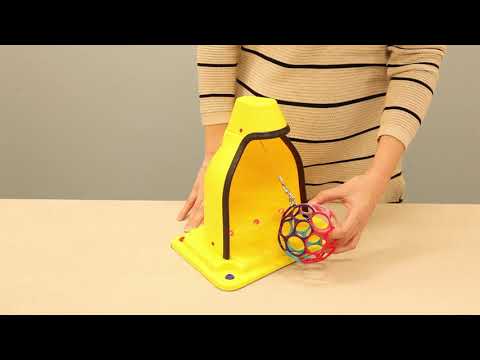 Like having a miniature tether ball court in your home or classroom, this best-selling multi-sensory toy lights up and plays music when users pull on the ball.
---
Robbie Rabbit - A42924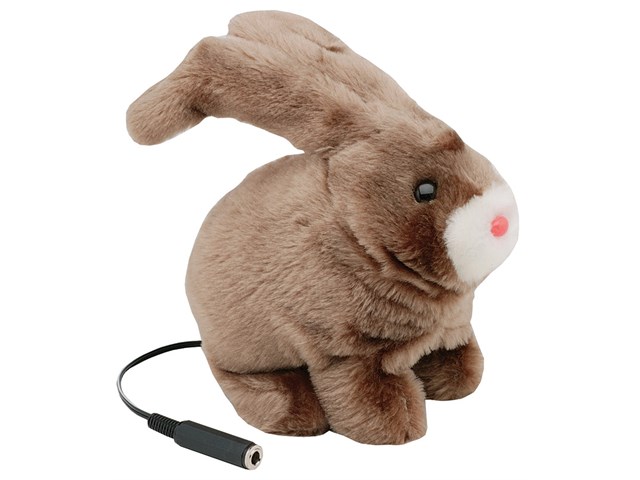 Robbie Rabbit hops and wiggles its nose when you activate your capability switch. This switch-adapted plush toy is great for teaching cause and effect.
---
Talking Bubble Baby Box - A42920 (Not available)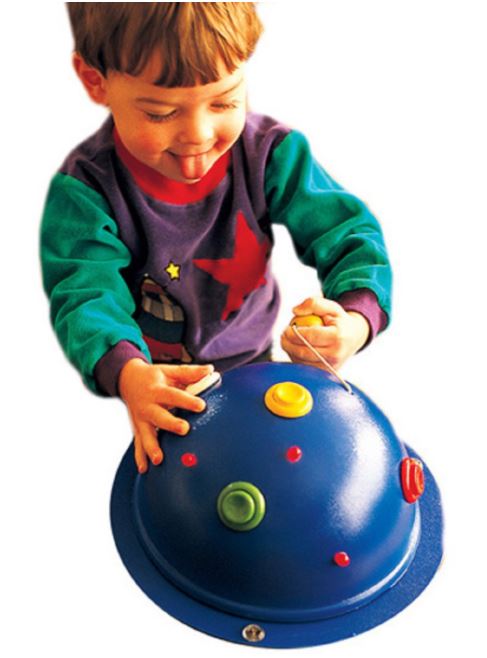 ​Press a button or pull a switch to hear prerecorded messages. Record your own messages with the red button at the bottom of the toy.
---
Under the Dome - A44209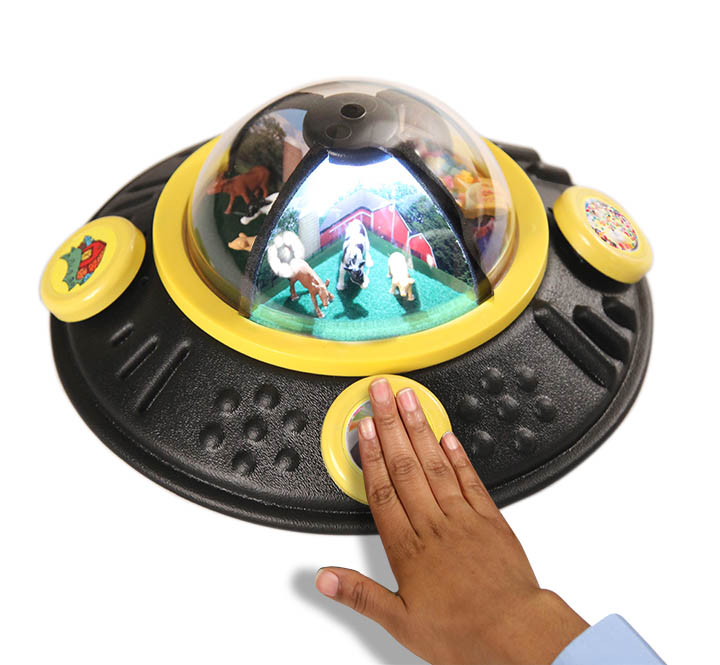 The possibilities are endless with this engaging multi-sensory toy. Turn the dome and select one of four different activity centers—each with its own theme.
---
Interchangeable Music Puzzle/Switch - A44208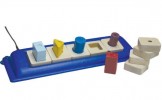 Ideal for developing cognitive skills! Great for both children and adults, this innovative puzzle has removable blocks that allow the user to progressively increase the skill required to complete the task. Start with one shape and any four blank blocks and build up to five distinct shapes. When the task is completed, music plays. If a reward toy or device is connected to the blocks, it will automatically turn on but music will not play.
---
Curious George Jack-in-the-Box - A42854

Pop goes the weasel! Curious George lights up your day. Just activate your capability switch and George pops out and a fun tune plays. A terrific cause and effect experience. Size: 8"L x 5½"W x 5½"H. Requires Capability Switch and 4 AA Batteries. Weight: 1½ lbs.
---
Buzz Lightyear - A42945

Single switch activated toy. This Buzz Lightyear says a variety of one liners when it's switch is pressed. It also lights up when he talks.
---
Sleepy Dreams Dora - A42922

Bedtime Dora is a snuggly doll with the adorable toddler look. She plays a sweet lullaby as her bracelet lights up and twinkles to music Dora's eyes close when you lie her down to sleep and her phrases change when she is on her back and when she is upright You can press Dora's belly to hear Dora's bedtime song, melody, or 10 random phrases. The light on her bracelet even remains glowing for 6 minutes and then slowly dims and turns off.
---
Jellyfish Lamp - A42853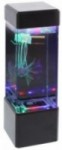 An amazing spectacle awaits! Watch in amazement as two life-like jellyfish gently float and sway in the water when you activate your switch. Just fill the lamp's tower with distilled water, add two plastic jellyfish (included) and a steady flow of air will circulate, creating ripples that cause the jellyfish to swim around in the water. A wonderful way to teach cause and effect and encourage visual attention.
---
Led Fan - A42852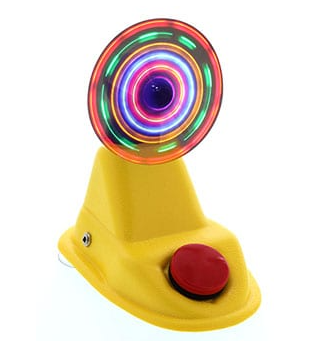 Have fun and cool off with this mesmerizing fan that creates a light show. This product's LED lights produce more than 30 color patterns to keep you dazzled and entertained. Our adapted LED Fan provides plenty of fun in the summer or any time you need a breeze.
---
All That Glitters - A42844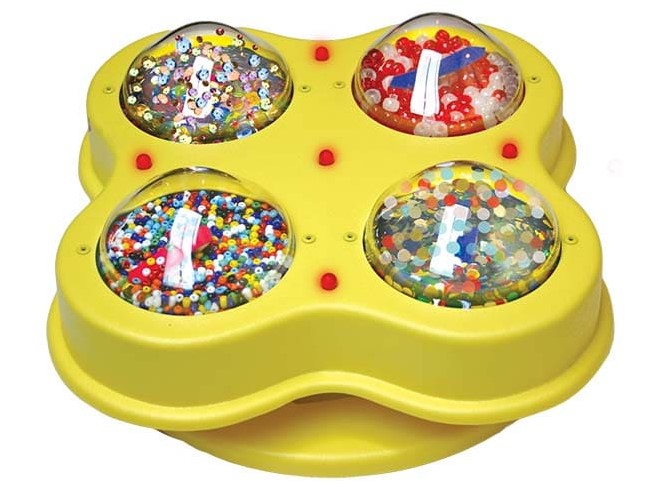 Experience hours of fun with this customer favorite. Even gentle pressure on one of the activity center's corners rewards you with sensory delight. Enjoy dazzling vibration, lights, music, glitter and flying beads! This dynamic experience invigorates your auditory, visual and tactile senses.
---
Elefun Ball Popper - A42843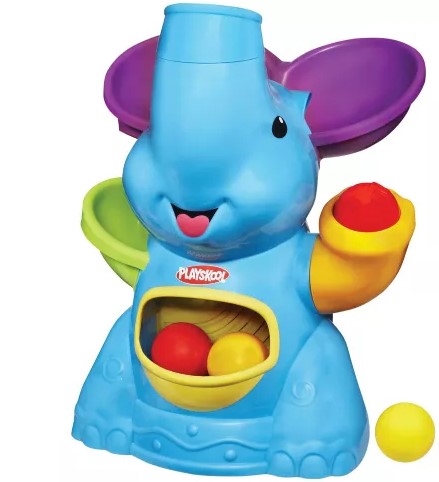 Increases hand-eye coordination
Teaches cause and effect relation
Features 10 tunes
---