We now have many new types of wonderful toys available!
Loan Procedure
We loan our toys for three months at a time; this loan can be renewed at any time beforehand and exchanged for another toy, unless no other toys are available.
To request an item, please click here to contact us
The child's name, medicare number, and other contact information are required.
Please indicate an alternate choice if the toy you want is not available.
We will arrange the shipment of the toy to any New Brunswick address, but it is your responsibility to return the toy to our office at the end of the loan period.
We can only lend one toy per person at a time.
Toys Available
---
Buzz Lightyear

Single switch activated toy. This Buzz Lightyear says a variety of one liners when it's switch is pressed. It also lights up when he talks.
---
Pudgy Piglet

He walks, wags his tail, wrinkles his nose, and oinks to his heart's delight! Note: Requires Capability Switch and 2 C Batteries.
---
Space Encounter
Activate the outer rim anywhere and encounter shooting, multi-coloured lights flashing inside the large frosted dome, exciting music, spaceship sounds, and vibration. It spins on a Lazy Susan base.
---
Donkey Pal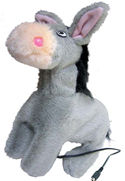 Watch him walk and make sounds. He'll provide your child with hours of fun! Capability switch required. Not recommended for children under 3 years old.
---
Crocodile Allie

Watch out, because Allie just might grab at your heartstrings! She walks and growls for attention, but you can't resist her cuteness! She'll provide your child with hours of fun! Capability switch required. Not recommended for children under 3 years old.
---
Musical Top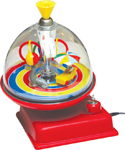 This colourful, musical top has been specially-adapted with a built-in motor, so it needs no pushing or winding. Easily activated by any of the Enabling Devices capability switches. Note: Requires Capability Switch and 2 C Batteries.
---
Johnny Coupe Car

Press the arrows or rim on the adorable happy face controller and watch your car take off and speed about the room. When the car moves forward, right or left, the head lights turn on; when it goes in reverse, the red tail lights turn on.
---
Funtastik

Activate the brightly coloured 5 (12.7 cm) squishy pads to see blinking multi-coloured lights, hear musical tunes and the Little Miss Muffet nursery rhyme, feel vibration, and watch the glitter dome with items spin about. (Each sensory activation plays separately from 7 to 18 seconds.) The gooshy pad is a great tactile experience for all. The squishy fluid moves through the center and goes back and forth when you push or pound it, giving you great visual and tactile effects.
---
Fridge DJ

Features a multisensory learning experience that encourages the discovery of numbers, uppercase and lowercase letters, and children's songs through upbeat music. The numbers and letters light up visually reinforcing learning. Can be use with or without a switch.
---
Finger Isolation Busy Box

To activate a response an individual has to purposefully press the recessed buttons with his or her finger. Upon activation, the 5 colourful buttons produce an assortment of stimulation including lights, vibration, music, and gentle breezes. Requires 2 C Batteries.
---
Colour Kaleidoscope

Watch the lights dance to classical music! Children can either grasp the handles or activate the bright tactile switches as they are introduced to primary and secondary colours in 3 languages (English, Spanish, French). This is a great toy to increase visual tracking, language and auditory development, and color identification. Requires 3 AA Batteries.
---
Busy Gears

Connect a capability switch and the brightly coloured gears play music and entertain you with a light show. The gears are interchangeable, which make it easy to create your own designs. Requires Capability Switch and 3 AA Batteries.
---
All That Glitters

Children will love exploring this spectacular multi-dome activity center. The slightest pressure on any corner will reward the user with lights, vibration, music, and flying beads and glitter. A delightful center for visual, auditory and tactile awakening.
---
5 Function Activity Center

This fun-filled activity centre provides five stations for somatosensory stimulation: a bright yellow plate activates a radio, a large red plate vibrates when pressed, a wooden roller sounds a buzzer, a pull-ball turns on a music box, and a large orange plate turns on a bright light. Each of the switch plates has been designed to enhance sensory awareness. (Requires 2 C Batteries).
---
Matching Picture Lotto Bingo

Perfect for beginning readers! Designed to assist young children with word recognition. Push the yellow 2 (6.3 cm) button to scan the board for the right match. To select the correct one, release the switch and the light will lock in place. When all 9 lights are lit you have won the game! (The blue button is for correcting mistakes and for restarting the game.) Includes 2 jacks so you can operate the game with your own capability switches. Includes 4 reversible playing cards.
---
Sleepy Dreams Dora

Press your capability switch and Dora will sing a lullabye and say bedtime phrases in both English and Spanish. Dora is soft and cuddly and when you lay her down her eyes close, pick her up and they open. Includes "My Bedtime Adventure" book and hairbrush.
---
Sponge Bob Bubble Blower

Interactive bubble play! Activate your capability switch and thousands of bubbles will be blown by your favorite characters. Dora, Diego and Sponge Bob come with a special character bubble wand and four ounces of bubble solution. Works with or without a capability switch.
---
Spin & Go Police Car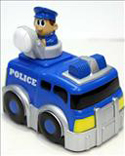 Drive the police car! Press the green button on the large, easy-to-use remote and the police car will go in the direction that the policeman faces. Press the yellow button when you want him to stop.
---
Entangled Dome

Soothing! Press anywhere on the base, rim or dome to enjoy lights, music and vibration. Great for increasing visual attention, tactile awareness and auditory development. Lights, vibration and music can be turned on or off by hidden switches.
---
Saucer Dome Switch

Gentle touch, merry reward! When the rim on the dome is gently pressed, silvery glitter swirls around while music, lights and vibration reward the user and provide them with auditory, visual and tactile stimulation. The sensory stimuli can be switched on or off individually. This dome also acts as a switch.
---
Bump & Go Plane

Spin and go! Just activate your capability switch and the Bump & Go Airplane will twirl about when it hits an object and go in another direction. Lights flash and the engine spins. A fun way to increase visual attention.
---
Music & Lights Caterpillar

Plays 16 songs! Activate your capability switch and play 16 different children's songs while 4 colored flashing lights flash in tune to the music. Increases auditory and language development. Also works by pushing the pink button on the caterpillar's back.
---
Musical Merry-Go-Round

Six Ponies! Press and hold your capability switch and this delightful Merry-Go-Round rotates as calliope music plays and lights twinkle. Great for developing visual attention and teaching cause and effect.
---
Luminidisk

A colorful light show! Watch the wonderful colored patterns flash about to six different upbeat musical tunes. Our new Luminidisk can be activated in three different ways: by pressing the bright yellow tactile switch, by sound activation, or by using your own capability switch. The Luminidisk also has vibration which can be turned on or off. The colorful patterns are great for increasing visual attention and the voice activation encourages the initiation of sounds.
---
Lighted Vibrating Mirror

Lights, vibration, action! Use our vibrating mirror during circle time activities. This mirror encourages special explorations. When you pick up the mirror the lights turn on while the unit vibrates. This encourages the user to visually attend to himself and increases bi-lateral hand usage. The level of vibration is adjustable.
---
Curious George Jack-in-the-Box

Pop goes the weasel! Curious George lights up your day. Just activate your capability switch and George pops out and a fun tune plays. A terrific cause and effect experience.
---
Peek-a-Boo Mirror Switch

Encourages exploration! Mirror provides tactile and visual reinforcement. Playing with the beads will activate lights, vibration and music, while the soothing chains provide unique tactile stimulation. Vibration sensitivity is adjustable. Can be used as a switch to activate devices. Can be used on the floor or a table. Lights, vibration and music can be turned on or off by hidden switches.
---
Pretty Kitten

I walk, I meow and wag may tail! Watch them walk, talk and make animal sounds. Cute and cuddly, these plush toys will provide you with hours of excitement!
---
Matching Picture Lotto Bingo

Perfect for beginning readers! Picture Word Lotto is designed to assist students with word recognition and picture identification. We have created an electronic base unit with 9 red LED lights for the Lotto cards. Push the yellow 2½" button to scan the board for the right match. To select the correct one, release the switch and the light will lock in place. When all 9 lights are lit you have won the game! The blue button is for correcting mistakes and for restarting the game. There are 2 jacks on the side so you can operate the game with your own capability switches. Game comes with four reversible playing cards.
---
Somatosensory Tubes

Instant rewards! Perfect for developing grasping skills, localizing sound and teaching cause and effect. Simply pick up the tube (#3035), hold it in a vertical position and it instantly rewards you with glowing lights and soothing vibrations. Our version adds music. All use reliable solid-state technology.
---
Pull Ball
Easy fun with melody and illumination! Pulling the multifaceted spring ball will activate music and lights. The tetherball will fly back into its case when released. Increases eye-hand coordination, fine motor skills and finger isolation.
---
Learning Lantern

Two switch activations! We've adapted this fun, musical lantern with two switch activations. Press one switch for sing-along songs and tunes, press the other for sounds of the night. Lantern combines seven sing-along songs, fun phrases, nature sounds and activities with learning about numbers, counting, animals, day and night and more. Lantern works with or without a switch, has two volume levels and an on/off switch.
---
Therapeutic Manipulator

Encourages surprising rewards! Bright activity center encourages therapeutic movements, increases finger isolation and grasping while providing tactile, auditory and visual stimulation. Pull on one of the two wiggle people and goofy cartoon sounds will play. Rotate the worm and set off a potpourri of lights, music and vibration in the dome. If you move the giant knob to the left or right, the user will hear more cartoon sounds. Pushing the green button plays a soothing tune.
---
Dino Educational Smart Toy

The Dino Educational Smart Toy is educational Dino companions that learn and grow with kids. Dinos are not personal assistants, they are friends who answer questions, tell stories, practice spelling, play games and even lead guided meditations—all without the need for a screen. The Wi-Fi-enabled Dinos engage kids in interactive conversation and get smarter with each automatic content update.
---
Interchangeable Music Puzzle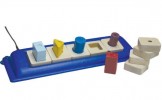 Ideal for developing cognitive skills! Great for both children and adults, this innovative puzzle has removable blocks, which allow the user to progressively increase the skill required to complete the task. Start with one shape and any four blank blocks and build up to five distinct shapes. When the task is completed, music plays. If a reward toy or device is connected to the blocks, it will automatically turn on but music will not play. You can easily shift or rotate the blocks to teach spatial relations, form constancy and mental imagery.
---
Take N' Talk

Learning through actions…That is what our Take N' Talk devices strive to achieve. This model allows you to record seven 35-second messages. You play the message back by removing or placing one of the 3" x 3" icon frames.
---
Talking Bubble Baby Box

The Talking Bubble Baby Box is a brightly-colored, bubble-shaped activity center perfect for encouraging hours of exploration. Tug on the attached pull balls or push the brightly-colored buttons to activate vibration, lights, or music. Use the Bubble Busy Box Motor Activity Center to help develop hand-eye coordination, fine motor skills, and gross arm movements; this product is also useful for teaching cause and effect.
---
High Striker

Takes all punches! When the gooshy pad is struck, various sound effects play at different levels while lights track upward, indicating the amount of force applied. When struck full force the user is rewarded with a rainbow of lights, vibration, music, spinning glitter and sound effects, providing tactile and visual stimulation.
---
Bump n Bubbles Robot

Spins, bumps, turns! Bump n Bubbles Robot is a silly bubble blowing robot that can't keep still! Activate your capability switch and he spins, bumps, and turns in all directions. Obstacles won't stop him, he'll simply bump into them and change direction. He leaves a trail of streaming bubbles in his wake.
---
Talking Clock Communicator

One of a kind! In each of the 12 positions it has a recessed 2" x 2" holder for black or yellow icon holders (included). Choose the positions you want to use, record each message & then use your capability switch to scan & choose the desired message.
---
Jelly Fish Lamp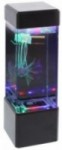 An amazing spectacle awaits! Watch in amazement as two life-like jellyfish gently float and sway in the water when you activate your switch. Just fill the lamp's tower with distilled water, add two plastic jellyfish (included) and a steady flow of air will circulate, creating ripples that cause the jellyfish to swim around in the water. A wonderful way to teach cause and effect and encourage visual attention.
---
LED Fan

Stay cool and be entertained with this extraordinary adapted fan that's also a light show! With just the push of the button, the fan's LED lights create more than 30 different color patterns. Two suction cups hold the fan in place and it also works with a switch.
---
Musical Fan Switch with Lights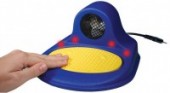 Savor a delightful breeze, hear the sound of music, and see the bright lights when you press this fan's bright yellow, textured switch. Also connects to and activates an external device.
---
Adapted Musical Crystal Ball

Activate your switch and the dome will rotate and project a moving kaleidoscope of colorful shapes while soothing music plays.
---
CD Walkman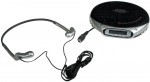 Our portable switch-adapted CD player lets them take music wherever they go. A cinch to use, start and pause your player by with a touch of a switch.
---