Paper Eggs Campaign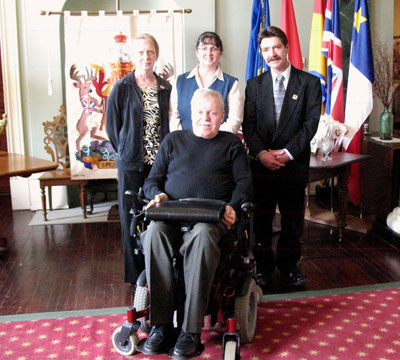 Pictured at the 2012 Easter Seals Launch at the Goventment House Fredericton is Judy Carr of Woodstock, ESNB Executive Director Julia Latham, Doug MacKenzie of Woodstock and ESNB President Doug Bridgman.
Easter Seals New Brunswick Paper Egg 2012
Doug MacKenzie & Judy Carr of Woodstock present a cheque for $ 1,237.00 to Easter Seals N.B. Special thanks to the people of greater Woodstock area, local business and non-profit groups for helping us continue to improve the lives of people living with disabilities.
Mr. Doug MacKenzie was manager of the Woodstock New Brunswick TB!S store, that unfortunately since shut down. Last year at a National Easter Seals meeting on PEI Mr. MacKenzie accepted the award for top fundraiser in the country on behalf of the citizens of Woodstock and surrounding area. For three years running TB!S Woodstock was the National Platinum Egg winner. This award is given to the TB!S store that raised the most money nationally during the annual Easter Seals Paper Egg campaign.
This year the TB!S stores in New Brunswick raised $ 2,858.06 for the Paper Egg Campaign.
Doug MacKenzie along with the hard work and dedication of former staff, local businesses and the good people of Woodstock, has to date raised $ 51,906 for ESNB.
Easter Seals New Brunswick is a bilingual, not-for-profit organization, working in partnership with persons with disabilities, enabling them to attain independence and equality of opportunity available in their communities. All proceeds raised from the Paper Egg Campaign stay in the community. Donations go to fund programs run by ESNB which; provide long term loans or adaptive equipment (wheelchairs, walkers etc.) to clients, recycle used equipment enabling it to be used by other clients, provides communication devices in French and English schools, and sends children and adults with disabilities to Camp Rotary in Grand Lake N.B.
Thank you for your generosity and dedication to make your community a better place for people with disabilities.
tb!s Woodstock Winner
Platinum Egg Award for Easter Seals Paper Egg Campaign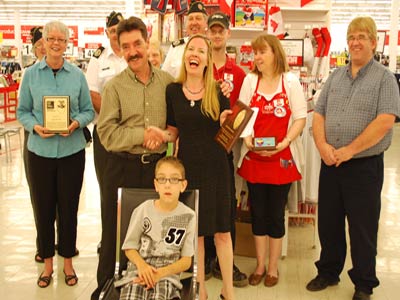 Smiles all round for the winners of the Platinum Egg award. Helene Caplice of ESNB presents tb!s Manager Doug MacKenzie with the winners plaque for all the hard work and dedication he, his staff and volunteers from the community have shown the campaign. Also present is Noah Folz young Ambassador for ESNB and tb!s District Manager Dan Barrett.
For the third year running tb!s Woodstock is the National Platinum Egg winner. This award is given to the tb!s store that raised the most money nationally during the annual Easter Seals Paper Egg campaign.
tb!s Woodstock, raised $5,962 in this year's campaign beating out last year's record of $5,457. The store, staff and supporters in the community of Woodstock are consistent champions of Easter Seals clients.
The Woodstock store has been top fundraiser since it became involved in the campaign in 2001 when it was a SAAN store, it has now raised more than $50,669 for Easter Seals New Brunswick. The store has raised a total of $17,692 since operating as a tb!s store.
All funds raised support Easter Seals New Brunswick programs and services that provide active living opportunities and adaptive technology for kids and youth with disabilities.
tb!s raised $152,805 nationwide, making it Easter Seals' Top National Paper Egg sponsor in 2011, a distinction it has held since 2007 when it first became involved in this campaign. Since that time, tb!s has raised $810,804 for Easter Seals. This year, tb!s stores raised $15,262 in New Brunswick alone!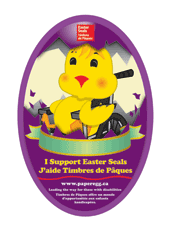 They have done it again!!
For the 11th year in a row Manager Doug MacKenzie and the super staff at tb!s the bargain shop® in Woodstock are the top fundraising tb!s store in Canada for the Easter Seals Paper Egg Campaign. For the weeks leading up to Easter, stores across the country sell Paper Eggs raising money for Easter Seals and supporting people with disabilities. This year tb!s the bargain shop® in Woodstock raised $5,961.52.
"We are immensely grateful to the staff of the Woodstock tb!s for their tireless dedication to our campaign. All the New Brunswick stores who participate in the Paper Egg are making a huge difference in the lives of those in our community living with a disability." said Julia Latham, Executive Director for ESNB. "We sincerely thank everyone at the tb!s, Lawtons Drug, Price Chopper and Booster Juice stores." The tb!s store in Dalhousie also was a very impressive leader in the campaign this year raising $2,481.62.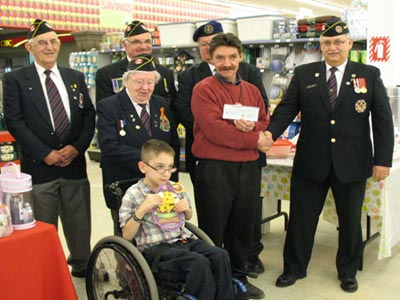 ESNB Ambassador Noah Folz and Woodstock tb!s store manager Doug MacKenzie with the members of ANAVETS Unit #95, President Doug Arch presents a generous donation to the Paper Egg Campaign.