Fall Mail 2020
November 12 2020
Easter Seals NB and the Rotary Club of Fredericton are pleased to announce that we have finalized the transfer by the Fredericton Rotary Club Charitable Trust of the Camp Rotary facilities and operations at Grand Lake to Easter Seals NB.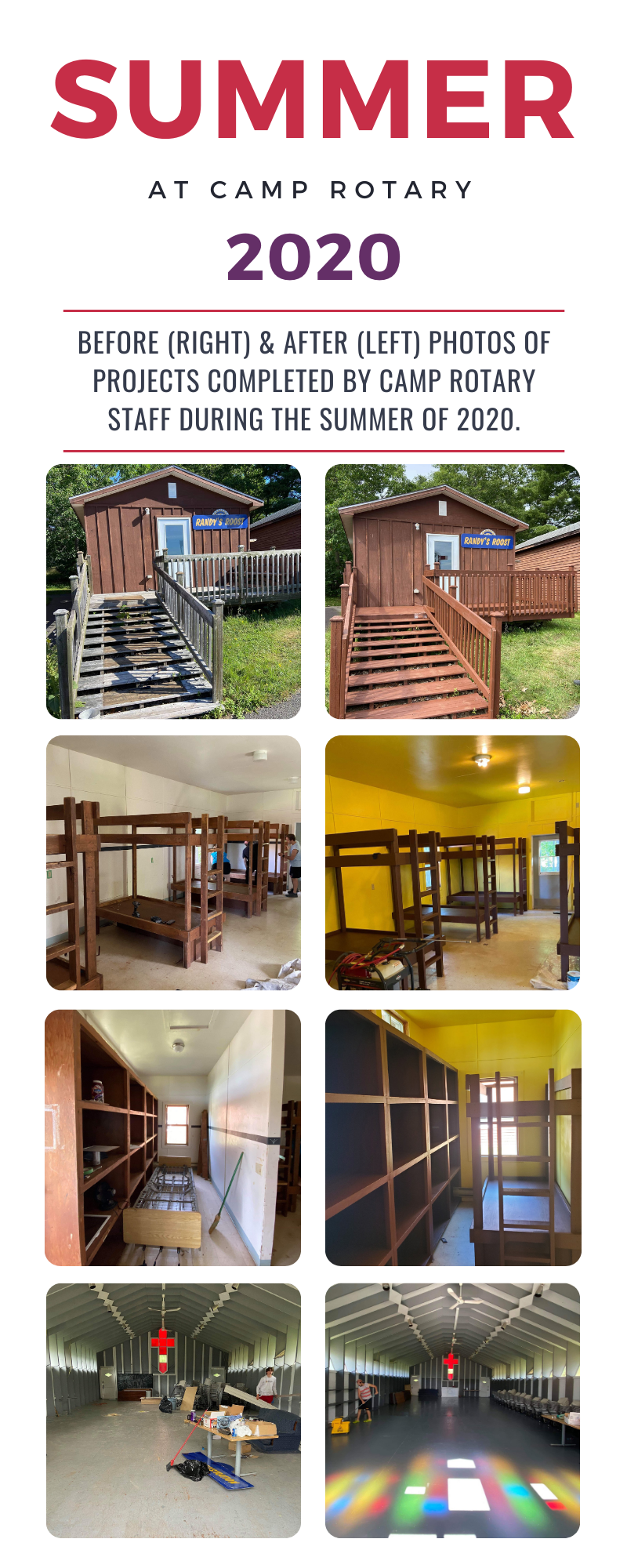 How did we get here? Let us tell you…
Camp Rotary was originally operated as a therapeutic recreation centre for children with physical disabilities. The first camp was held for three weeks in the summer of 1952, with 18 boys attending. The farmhouse on the property was the only building.
As Camp Rotary grew, additions and improvements were made: the facility now includes a campus of camper cabins, common buildings, and activity areas. The camp now offers a host of summertime activities for children, youth and adults of any ability level.
These improvements were made possible through donations from the local Rotary Clubs, from local businesses, from organizations, from governments, and from individuals, like you!
Rotary members and volunteers alone could not run the camp. The Rotary Club entered a formal operating agreement with Easter Seals NB in 1972. For the last 48 years, Easter Seals NB oversaw the day-to-day operations of the camp and enhanced programming while the Rotary Club focused on maintenance and keeping the camp in good working order. This partnership has allowed the camp to flourish.
Today, we have a facility of which both organizations can be justly proud. However, the membership of the Rotary Club of Fredericton has been steadily declining, and the few remaining members have found that a commitment to maintaining Camp Rotary on a continuing basis is too onerous a responsibility for so few volunteers.
Following discussions, the parties agreed that Easter Seals would take over ownership of Camp Rotary property and operate it as has been done to date. The support and philosophy of Camp Rotary will be ongoing, and improvements will be made to enhance both the facility and the programs being offered to children, youth and adults with disabilities.
This past summer, Covid-19 didn't allow for a regular camping season. Instead, the Camp Rotary staff focused on improving the camp by painting cabins, staining bunkbeds and cabin decks, renovating the activities building and grooming the nature trails.
Your charitable donation to this year's campaign will support a nationally recognized leader in accessible camping, with a fully bilingual program that impacts the lives of hundreds of families in New Brunswick.